Empress remains as it was in 1929 a family run business. Since 1999 it has been owned by Stephen Dine who first started out with the company full time in 1987. We pride ourselves on high standards of service from the moment you request a quotation through to the day out with us. Many of our satisfied customers make repeat bookings with us every year.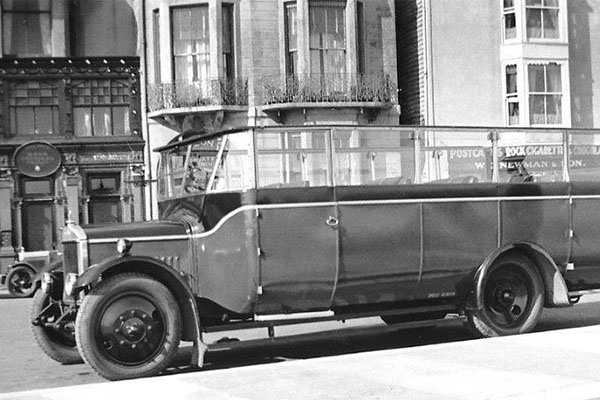 Its August 1929 and local businessman Harry Phillips decides to buy his own coach. Not doing anything in half measures he buys a new Dennis GL with 20 seat body direct from the Dennis factory in Guildford in Surrey at a cost of £800. The first group to hire it was said to have been the Hastings Ramblers Cricket Club, Harry and his family all having very strong Cricket connections locally.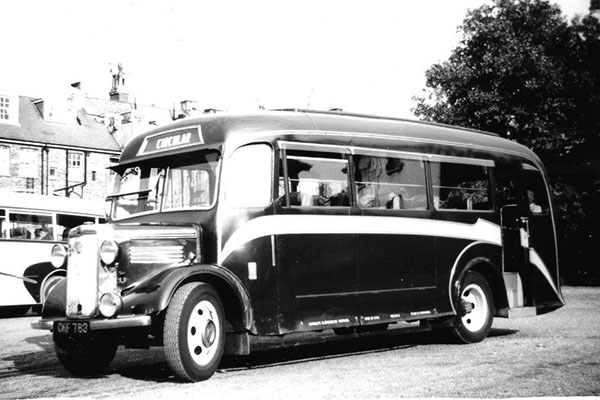 The coach and bus industry faced changes due to restrictions introduced with part IV of the 1930 Road Traffic Act. Harry as 'an established operator' was very well placed though as he was already licenced. It is known that by 1933 a regular service to Hellingly Hospital near Hailsham had been established for friends and relatives of patients there, as there was no direct service from the local area. Day trips and excursions were popular from Hastings seafront to a range of places as well as race days to Folkestone, Plumpton and Lingfield.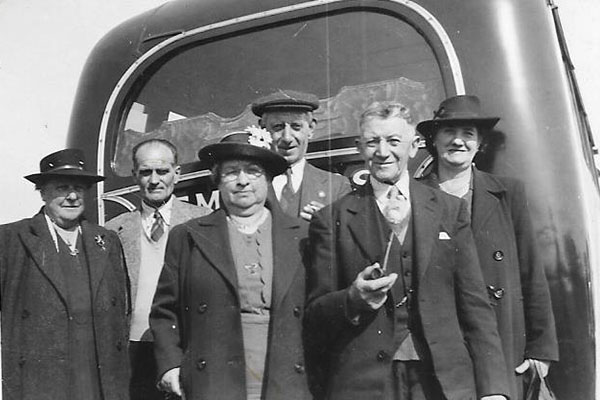 By now the Dennis had been replaced by a 26 seat Bedford. For the country difficult years were ahead as we entered into the Second World War. Harry managed to keep his coach operational by continuing the regular trips to Hellingly, also by ferrying about the local Home Guard. He even undertook evacuation work for families from the local area as Hastings was now very much in the frontline looking out over the English Channel. When the war finally ended in 1946, young Harry Phillips, or 'son' as better known, took his PSV test to drive a coach and entered into the family business.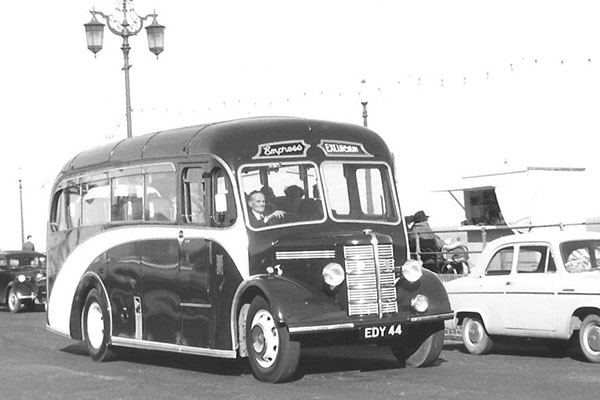 The decade had only just started and Harry senior had already invested in a new Bedford OB with a 29 seat Plaxton body. At a cost of over £2,000 it demonstrated Harry's faith in the years ahead for Empress. The post war trade boomed in the 1950's and these were perhaps the Golden years of the seaside trade for the company. With no regulations for drivers' hours in existence as yet, the days for a coach driver were long ones, a full day out, with a pub stop in the evening was certainly part of the culture for many groups enjoying some carefree time together.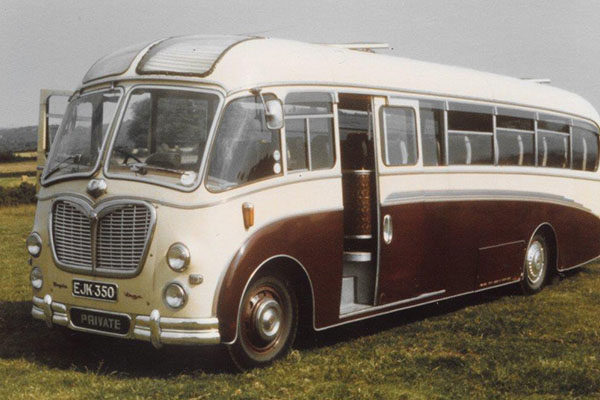 By the 60's Harry's fleet had grown to three vehicles, all Bedford in make, all Petrol engined too, which were still commonplace in many coach fleets. Harry's original depot in Clive Vale in Hastings had to be enlarged to cope with newer coaches which were getting bigger in size! 29, 35 & 41 seats were now offered in Harry's smart livery of Maroon and Ivory. Fondly remembered regular drivers included Tom Thomas and Harry Phillips 'son'.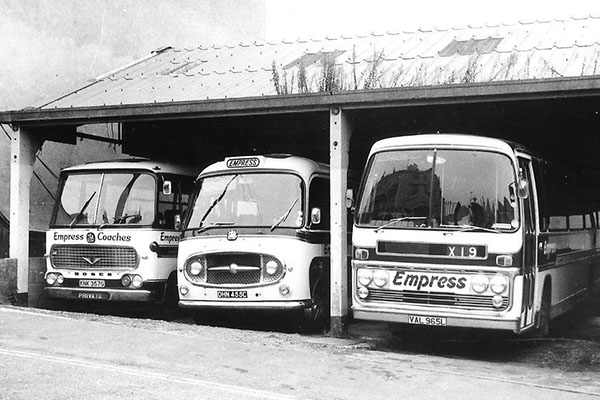 The sad passing of Harry Phillips senior in 1970 gave his son the chance to continue with the business. The loss also of driver Tom meant that Harry took the difficult decision to sell Empress just a year later in July 1971 to Anthony Patten, known to all as Tony, who takes Empress onto its next chapter. Future purchases now would be Diesel engined for better fuel economy. In May 1973 the first Minibus arrived in the fleet, a 12 seat Ford Transit, shaping the way for future decades. Business diversified with regular contracts established for factory workers, Sunday pick-ups to local churches, and later on, school contracts with East Sussex County Council. Private hire still boomed as Tony continued to develop Empress. Our current depot was bought in 1978 to house an increasing fleet.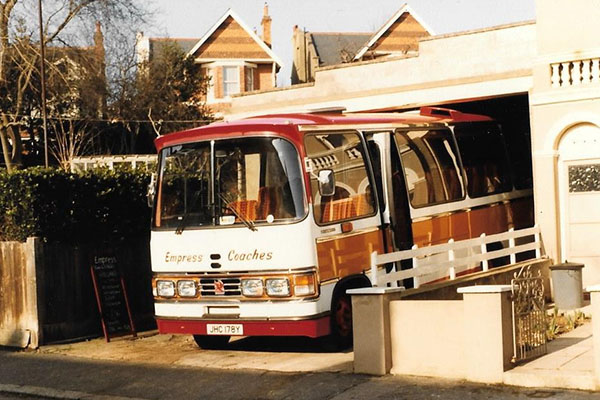 In trend with the changing face of the coach industry, Tony decided in late 1980 to launch a new livery of white with orange and red, to freshen up the image of Empress. Over the next 5 years, the old colours were soon to disappear as new purchases were made and the business moved forward. By now all full range of sizes could be offered from 12, 16, 29, 33, 41 & 53 seats, although it was interesting to note that on many occasions the 29 seat size was the most popular for the firm. After some 50 years in operation, the regular service to Hellingly Hospital ceased at the end of 1983 due to increases in car ownership after some 50 years in operation. In 1988 the Channel Tunnel opened, paving the way for even longer days to the Continent as part of our excursion work.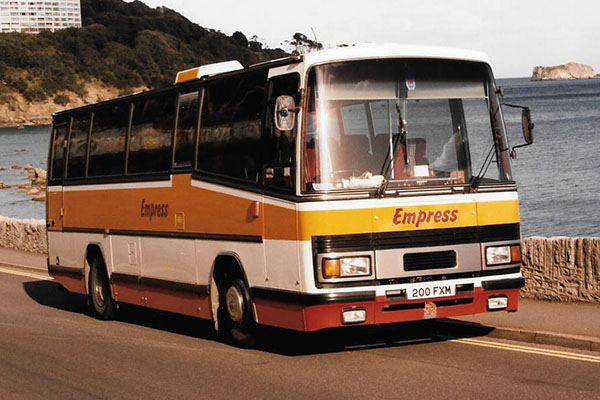 As the decade started, serious investment was made in two new CVE Omni 21 seat vehicles. They were low floor, wheelchair accessible and a real boost for the regular school contracts undertaken. Latterly used on Mobility Link bus services, it was just another different type of work the company was undertaking in this changing time. In 1991 the decision to close our original Clive Vale depot brought to an end 62 years of use. Our customer base increases and bookings are diverse. Tony starts to think of retirement and in 1998 decides to sell to a local businessman. After just 22 months though Stephen Dine, who has worked for the company full time since 1987, takes on Empress. By now it's operating 13 vehicles.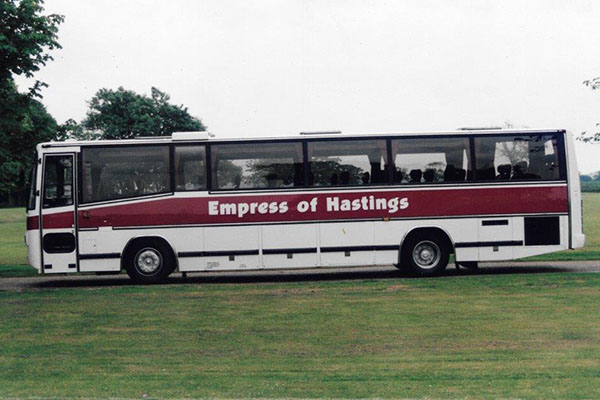 Stephen takes the early decision to re-invent the original livery to regain local awareness and with a long term vision begins the task of taking Empress into the 21st Century. The fleet is diverse, but new opportunities with contract work, private hire and service work create a mixed portfolio of business. New marketing ideas are tried, one thing becomes obvious: our core business is developing more towards the smaller coaches as that is what our customers wanted! In 2009, ahead of our 80th anniversary, we re-brand our fleet with a new livery which is very well received. A special book charting our interesting History is also published which is a best seller!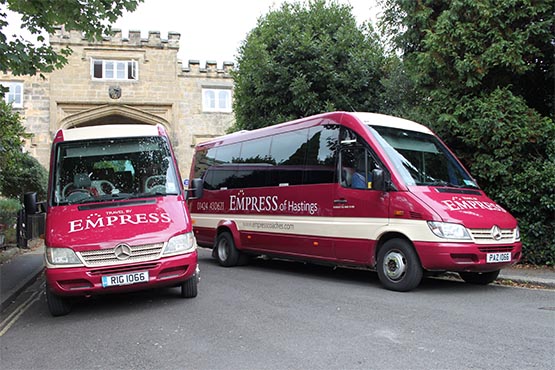 We don't rest on our laurels, we listen to what our customers want and the fleet is gradually being updated with vehicles that generally feature air-conditioning, reclining seats and double glazed windows as standard in the main. In 2016 a welcome new arrival comes in the form of a classic coach! Just like buses as the saying goes, you wait for one and two arrive, this has certainly been the case at Empress, as a second vehicle soon joined it. Both are Bedford J2 Plaxtons. They herald the start of customers having a choice to book either modern, or indeed for that special occasion, something classic to travel in. Former Empress owner Tony Patten called in not long after to see if we had gone mad! Stephen & Jayne's son Josh starts at Empress in September 2016 as an apprentice – perhaps the next chapter is just beginning for our family run firm.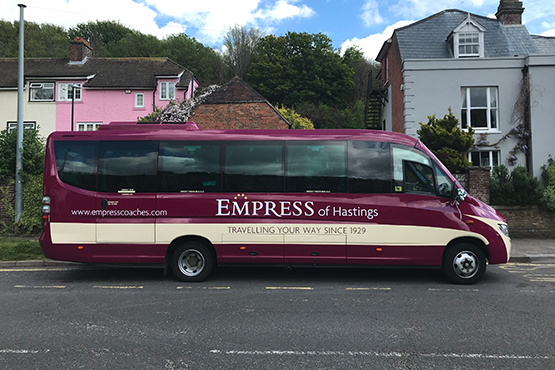 As the new decade of the 2020's begins we continue to move forward with fleet investment and running an even cleaner Emissions fleet. We are aware that we live in a very changing world and are looking to new innovations available for running our fleet.
One thing over the decades that still hasn't changed, our aim as always is to provide our customers with the best and personal service we can offer!